A message from the National President:
With some incredibly positive announcements from a number of State Governments around Australia the last couple weeks, as well as the easing of restrictions in New South Wales and Victoria – it's safe to say the nationals is definitely going ahead.
We understand these last couple years have been a whirlwind, which even now as we start to open up has impacted our confidence in travel plans and events outside our own state borders.
But having monitored the information being released by State Governments across Australia these last few weeks – the local organisers have never been more confident the Canberra Sharpie Nationals will go ahead as planned.
The main message to competitors that want to attend is 'get vaccinated!' This is the best way to ensure you are protecting yourself and others, as well as ensuring you are able to get home to your respective states without quarantine.
New South Wales announced recently it was opening up from its lockdown and would continue to ease restrictions as the state's vaccination rate rose past 80% double dose. As of today, New South Wales has a double vaccination rate of 86%.
Victoria also announced its roadmap out of COVID recently, which anticipates 80% of the state's 16+ population to be fully vaccinated by the end of October, and 90% of the state's 12+ population to be fully vaccinated by late November. Victorians will be able to freely travel to and from the ACT without quarantine from early November.
In Queensland, Premier Annastacia Palaszczuk said on 18 October that fully vaccinated travellers will be allowed to enter Queensland without the need to quarantine from December 17, while a phased border reopening for fully vaccinated people will begin from November 19. This should give locals great confidence they will be able to return home quarantine-free after the nationals.
In Tasmania, the vaccination rates are climbing and the State Government recently announced dates where it expects to hit vaccination targets. The state is currently at 73% double dose for 16+, is expected to hit 80% for 16+ in early November and 90% for 12+ in mid-December. If you haven't booked the Spirit of Tasmania – now is the time!
In the words of Premier Peter Gutewin: "I want to be very clear about this… we are not going to turn back from that date and so today I'm signalling to every eligible Tasmanian over the age of 12, if you're not vaccinated, get it done, and get it done as soon as you can."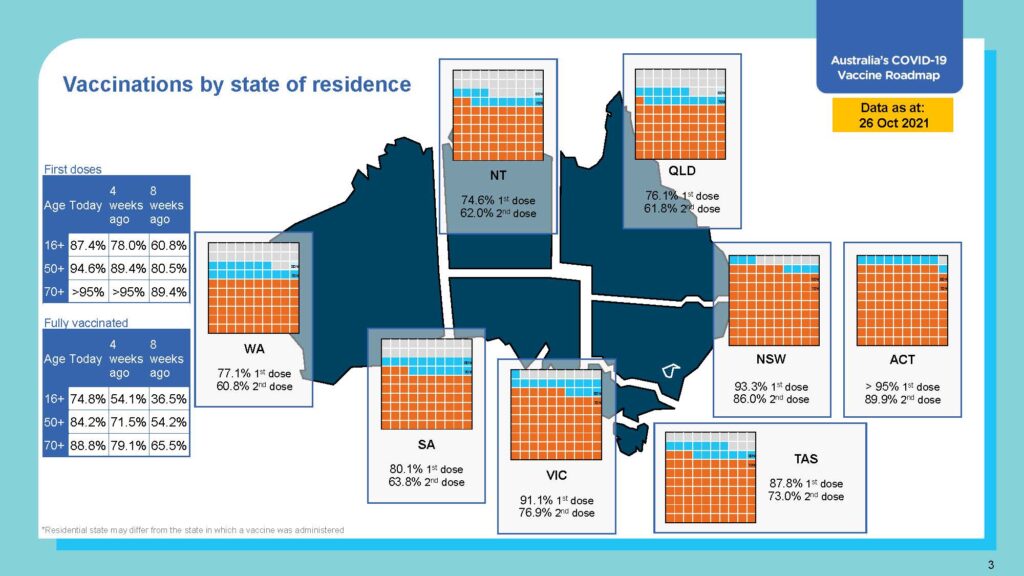 In South Australia, the roadmap out of COVID was released this week that will see SA open to fully vaccinated Australians from all states and territories from November 23, with the 90% double vaccination rate for 12+ expected before Christmas – where further restrictions will ease.
The downside from all of this is that it looks unlikely Western Australia will open up to the rest of the country before Christmas – and may even impose harder borders with South Australia when restrictions are eased and borders are open from SA to the eastern states. It is unfortunate if it plays out that way and we would understand if the Western Australians weren't confident about heading to Canberra.
But we are in a position where the show must go on – and with the majority of the country able to attend it seems only fair that the event goes ahead and remains labeled as an official national championship – the 78th Australian Sharpie Nationals.
The Sharpie class has been resilient throughout this pandemic, and our strength as a national class has never been more obvious as state associations continue to run great local racing and build on their existing Sharpie cultures in each state.
Numbers are growing in Tasmania and Queensland, Western Australia and South Australia have been showing massive numbers at State Championship events, the Victorians have never been more eager to get out on the water, and the Canberra and wider NSW fleet is still charging ahead in preparation for a home nationals on Lake Burley Griffin.
There has never been a prouder time to be part of the Sharpie family.
So now is the time to get organised, book your accommodation, make your plans and ensure you are at the nationals in Canberra this summer. We owe it to the hard-working organising committee led by Andy Forster to attend this event and celebrate the return of national Sharpie racing. It is going to be one hell of a reunion.
It is without a doubt the most anticipated Sharpie nationals in living memory – almost an "after party" so to speak. So get your skates on Sharpie sailors – I'll see you in Canberra.
HARRY FISHER
President, Australian Sharpies